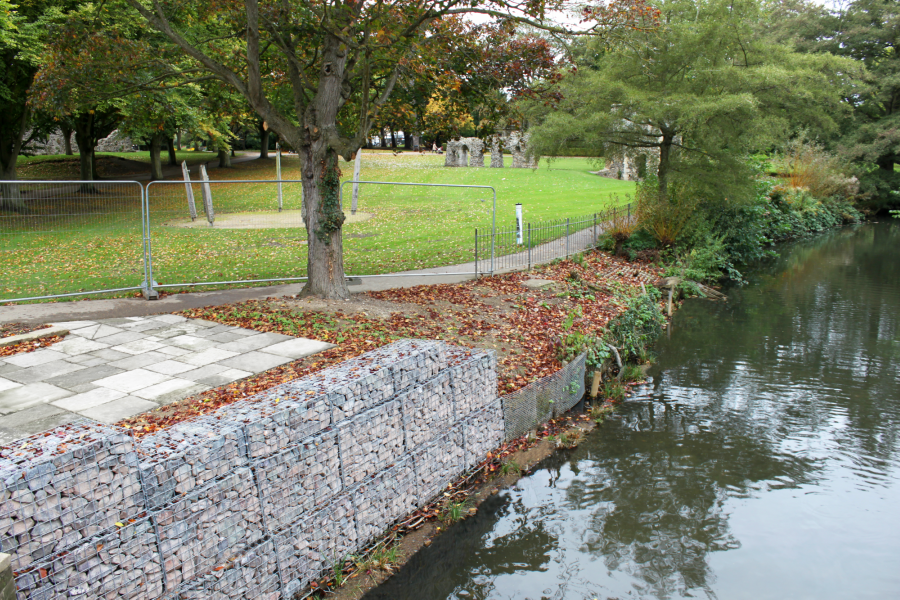 15 Jan

Gabion Wall Installed At The Abbey Gardens

Urban Forestry completed some work for St Edmundsbury Borough Council at the historic Abbey Gardens in Bury St Edmunds over the summer. The hard landscaping work included the supply and installation of gabions to the river bank next to the bridge.

Part of the existing hedging had to be dug out around the edge of the current tarmac path that runs parallel with the river, and all vegetation was then cleared on both sides of the bridge. We then supplied and installed a new broken brick rubble material to the bottom of the embankment which was levelled off and compacted to form a new sub base for the gabions. The gabion baskets were then positioned into their appropriate location and filled with a granite aggregate. A membrane sheet was then applied to the rear of the gabions in order to deter the soil from leaching through the back of the gabion into the granite.

The entire area was then back levelled to the gabions to create a new profiled grass area. Into this area we installed a bench onto new Yorkstone paving which was also supplied and installed by Urban Forestry. Once all the works were completed to this area we then supplied and installed a new black powder coated bow top fence to run parallel with the tarmac footpath and the river.

Come and take a look for yourself at the Abbey Gardens in Bury St Edmunds.