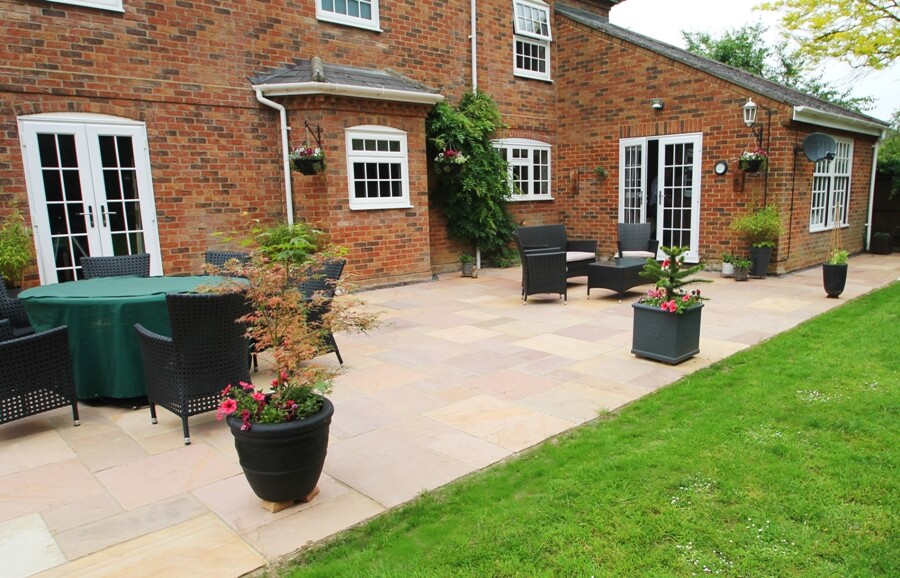 06 Jul

Sandstone paving project

This sandstone paving was recently completed by Lee & Max of our hard landscaping team in a private garden near Bury St Edmunds.
The Brief
The area to the rear of the house was already laid with paving which was looking old and dated.  The customer wanted this all to be removed and replaced with sandstone paving which would bring it up to date and also compliment the style of the house.  It was decided that the paving would wrap around the side of the house with a wide curved edge to keep it looking soft and to create a bigger area.
Before
Below you can see the area before the existing paving was lifted.  All this material was excavated and removed from site ready for the new paving.
 After
Here we have the finished result.  The sandstone was laid in a random pattern using different sizes.  As sandstone is a natural product there is a nice variation in the colours and the slabs have a riven surface giving them character and dimension.  The colour laid here is Modak Rose which has a mixture of buff & pink tones.  It works really well in a place like this where the building is constructed out of red brick.
This close up shows the paving colours in more detail
Take a look at our Domestic Gardens page for more information on the kind of projects we carry out.
If you are interested in a project of your own please get in touch via the Contact Us page.