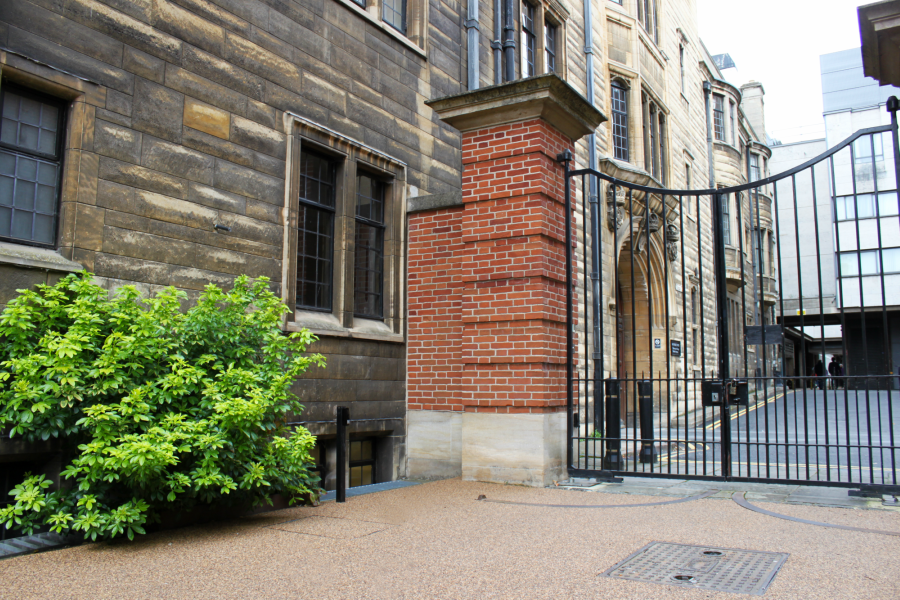 15 Jan

King's College, Cambridge – Resin Bound Driveway & Chinese Garden
Resin Bound Pathway
In December 2016 Urban Forestry had the pleasure of undertaking some work at King's College in Cambridge. Our Hard Landscaping team were instructed to supply and install 70m of new resin bound pathway to an area surrounding a steel sculpture in the gardens of King's College. The work required us to excavate down to the hard core layer and install a steel edging to the perimeter of the pathways. We then supplied and laid a macadam base to all areas which then received a top coat of stone and resin to finish.
Provost House Driveway
King's College were so pleased with the finished effect of the pathways that they then contacted us a few months later to lay the same resin bound surface to the Provost House driveway. For this project we had to excavate the entire existing area and then install a new Type 1 MOT material where required before being levelled and compacted to form the sub base. To one side of the driveway we supplied and fitted a steel edging which was pinned into position and concreted into place. We also supplied and installed steel recessed drain covers which were concreted into place. Onto the sub base we supplied and installed an open textured tarmac base course, followed by a stone and resin top coat to finish.
Chinese Memorial Garden
After completing the previous two projects, King's College contacted us again regarding the install of a Chinese memorial garden. This garden is to commemorate Xu Zhimo, a famous Chinese poet and writer who studied at King's College in the 1920's. His poem 'Second Farewell to Cambridge' is learnt by millions of school children across China.
We began by marking out the area according to the design we were given. We then excavated the area to the correct depth and installed metal edging to create a ying yang design. The pathways around the ying yang design were filled with type 1 MOT and then topped with Breedon gravel. We then formed a convex mound of topsoil on one half of the ying yang shape and on the other side, granite sets were laid in a concave shape pattern. The sets will be pointed with topsoil and moss will begin to grow in the joints. A seat is going to be installed at the top of the garden and the area outside of the ying yang design will be planted. When this project is complete we will upload further pictures.